Fully Customizable Contact Management Software
With Email Sync, Bulk Mail & Reporting
Get EASY Contact Manager
Free Trial. No Credit Card Required.
Enter valid email address
By signing up, you accept our Terms of Service and Privacy Policy
You Can Customize It With Drag & Drop
Very easy!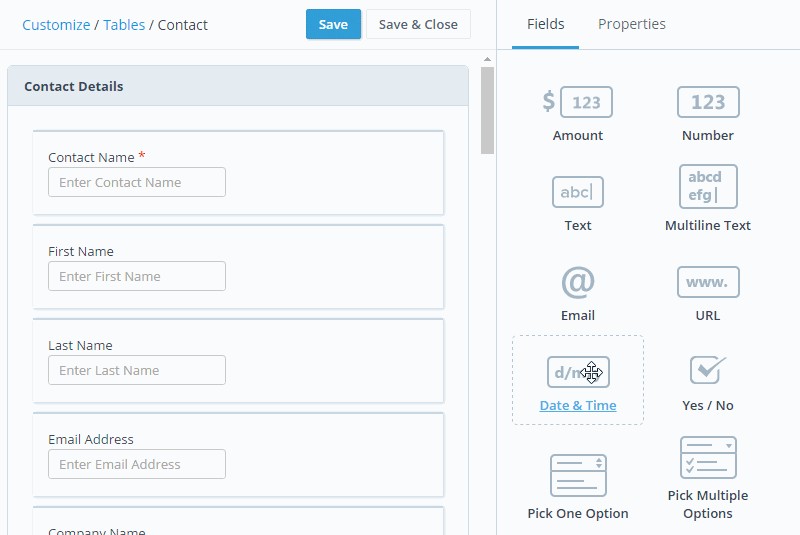 It adapts to your business needs.
You can create custom:
Fields
Tables / Forms (like Projects, Campaigns etc.)
Reports
Business logic
Customizable for ANY Industry
Track anything. Not just leads.
Automotive

Quotes
Commissions & Incentives
Scheduled Payments
Loan Disbursements
Vendors & Showrooms

Manufacturing

Products
Pricelists
Quotations & Orders

Real Estate

Properties / Projects
Bookings
Site visits
Payments
Agreements

Travel

Itinerary
Packages
Locations
Suppliers
Bookings

Education

Students
Institutes
Courses
Enrollments
Minimize Data Entry
Automatically import leads

From email/website/social media

Email Sync

Bulk Mail
Get 360° View of Leads
CompanyHub CRM shows contact information, emails, conversations, notes, tasks etc - everything at a glance. So you get the complete picture, quickly. You can send followup, create task, set next followup date, change hotness etc from contact dashboard. All this from a very well organized page.
Get Visibility in Sales
See potential deals by stages
See all open deals in 1 view. Know which deals are in which stage, what is the potential amount in each stage etc. Sort them with drag and drop. You can even filter the deals by sales person.
Create reports while in meeting
CompanyHub has really powerful yet easy reporting. You can create real time reports in seconds and take decisions based on facts, not guesses. Diiferent types of reports can be created, even using your custom fields.
I've tried so many (CRMs) over the past few months and this is the cleanest and most understandable to me
Mark Cherry
Founder, Green Stripe Media
The company hub has a very interactive interface; it's easy to comprehend and use, and the way the data is presented is so much fun. Assigning tasks to my teammates has become so much easier, and I'm able to view reports that were not possible earlier.
Sai Kiran Reddy .N
Indorse Trade Fair Media Pvt Ltd
I really love your software. It's really awesome. It is simple to use, has some interesting features to help you focus on sales. Which is exactly where I need to focus.
Ridha
With CompanyHub the Gandhi Walk Committee in South Africa is now able to better manage our sponsor discussions and project plan, tasks and the automated follow-up suggestions ensure we remain in touch with our important contacts
Amit Parbhucharan
Gandhi Walk Committee

Copyright © 2017 CompanyHub. All rights reserved.
×
Get Started. No Setup Required.
Enter valid email address