Tasks & Followups
Tasks
You can create followup tasks and associate them with contact / company / deal. You can assign the tasks to your colleagues too.
You get task reminder in morning as well as before the task.
Followups
Tasks are not reliable. Your team can forget creating a task and hence miss a valuable lead.
CompanyHub has a smarter way – Followup Suggestions. It will track conversations with each lead. And whenever there is lack of communication, your team will get a followup reminder.
Hotness & Smart Followup Suggestions
Hotness let's you divide your Contacts into 4 segments – Very Hot, Hot, Warm, Cold. Each indicates how often you would like to stay in touch with the contact. Based on hotness and last conversation date, we automatically set next followup date and give followup suggestions.
Suppose you had last conversation (either email exchange or you added a conversation) with a Contact on 7th August. Now if you change its hotness to Very Hot and your setting is every 7 days for very hot, we will change Next Followup Date to 14th August. Now suppose you have a conversation (you send / receive email or add conversation) on 12th August, we will automatically update next followup date to 19th August.
If the Next Followup Date crosses, you will see the contact on followup suggestions page.
You can ask support to customize period for each hotness as per your need.
Snooze & No Follow up
Suppose your lead asks you to get in touch after 3 months. You can pause followups without changing hotness by snoozing it for 90 days. We change the Next Followup Date to that many days from today.
If you say no followup (which actually sets a hidden field), you won't see that Contacts in Followup Suggestions page.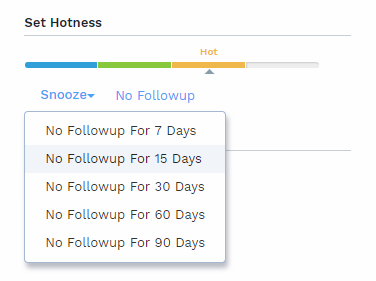 Followup Suggestions From Email
Once you sync your email account, CompanyHub also suggests followups for Contacts that you have not added to CompanyHub yet. It applies various criterias and tries to give mostly relevant suggestions.
In 1 click you can create contacts from there and sync conversations.
Next Followup Date
Next Followup Date can also be used a shortcut to set next followup date, instead of creating a task.
But please note that if conversation happens, it will get updated based on hotness like described above.