CRM For Doctors
Fuel Doctor-Patient Relationship With One-Click CRM Solution
Communicate And Connect With Patients Through CompanyHub CRM For Doctors
Trusted By 2000+ Customers & CRM Experts

Quality of Support

Ease of use

Requirements Fulfillment

Ease of Doing Business with





Finance Online

Software Suggest

Business.com

Red Herring Winner

Software Suggest

Finance Online
Using CompanyHub CRM for Doctors, you can streamline the way you connect with your patients,
track their health and improve the quality of care rendered.
On Average, A Doctor Is Expected To Spend 15 Minutes With
The Patient, However, With Time, This Span Is Reducing.
Doctors hardly get time to talk to the patient in details or know about his history,
assess his/her health. This in a way affects the care given to the patient.

A CRM For Doctors Channelizes Communication Between Patients & Doctor – Improve
Their Engagement Fostering Better Health Standards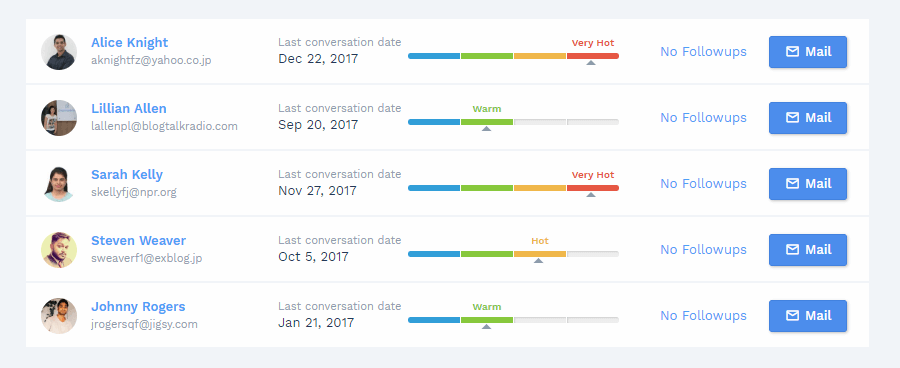 A CRM For Doctors helps to keep track of the patient's health activities and fetch significant details using the patient management tool.
Whether it is about booking appointments with the doctor or communicate about a health issue, share reports and diagnosis results or update health parameters, CompanyHub CRM helps craft a better relationship with automated tasks of health management and patient- doctor mapping.
One To One Communication With The Doctors Via CompanyHub Doctors CRM Software.
An Efficient Way To Remain Connected With Your Healthcare Service Providers
And Update Them On Every Mishap Or Fall In Health Recording.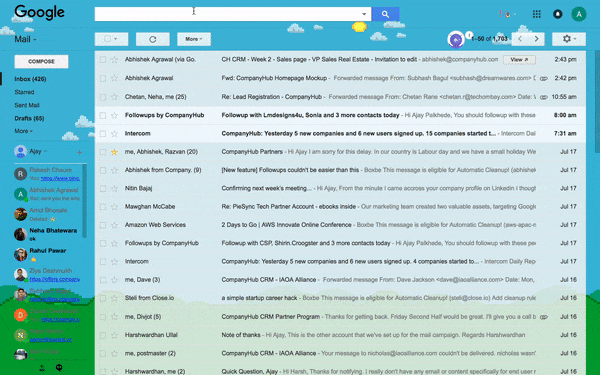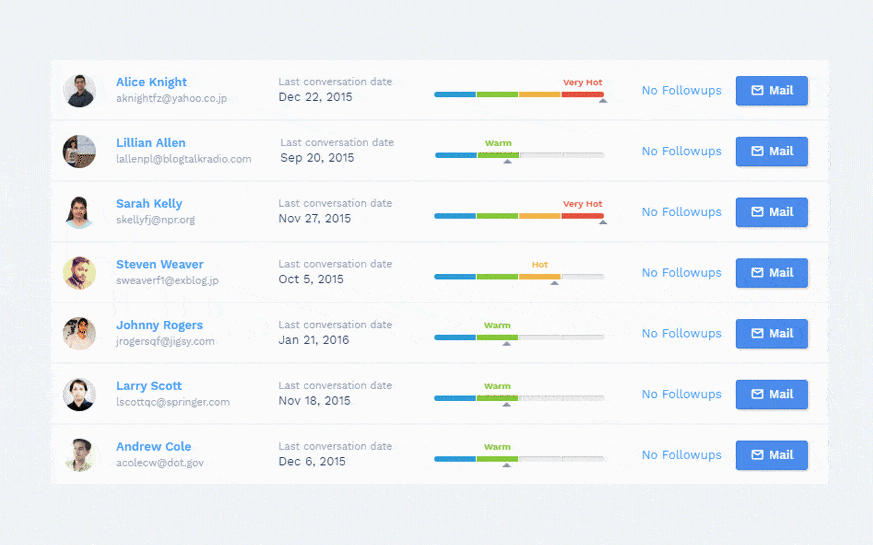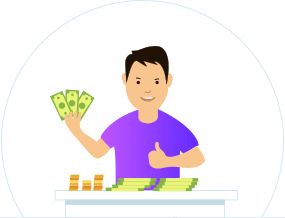 Improve Productivity With CompanyHub CRM For Doctors
Organize patient database
Build and store reports in the patient portal
Integrate A Digital Book To Record Patient Data And Keep Track Of All Other
Health Information In A Single Place Via "Doctors CRM Software"
One-click Patient Data
Create Contacts Instantly
Add Notes / Tasks / Conversations
Edit Fields of Different Records Like Excel
Calling The Hospital Or The Doctor's Chamber To Schedule An Appointment
Only To Find It Busy Or Not Responding Gets On The Nerve Of Patients.
The Modulated CRM Software Helps The Patients Open The App, Check
The Availability, Pick A Time Slot And Book An Appointment.
Patient-specific Dashboard To Have A Better View Of Their History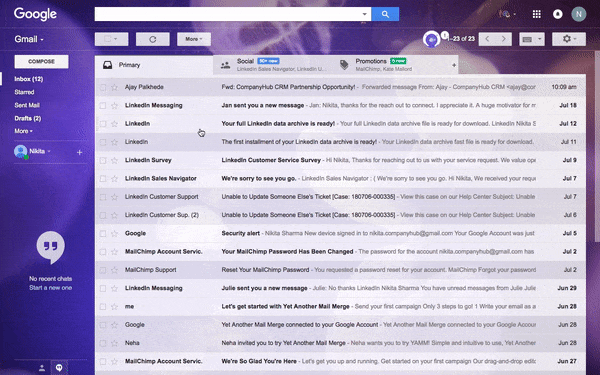 1. Paste Email
2. Personalize
3. Send Mail
Keep repeating for an hour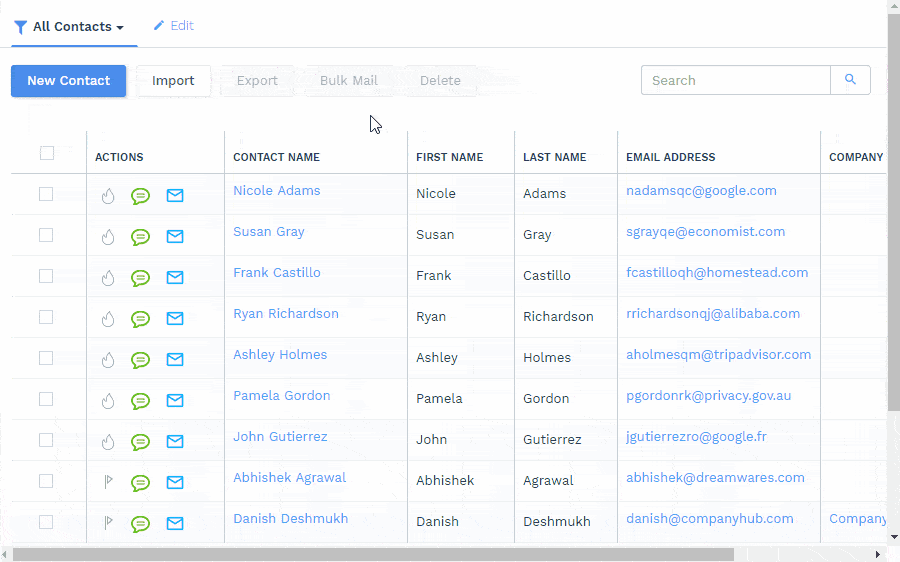 1. Select Contacts
2. Select Template
3. Send Mail
Done in 2 minutes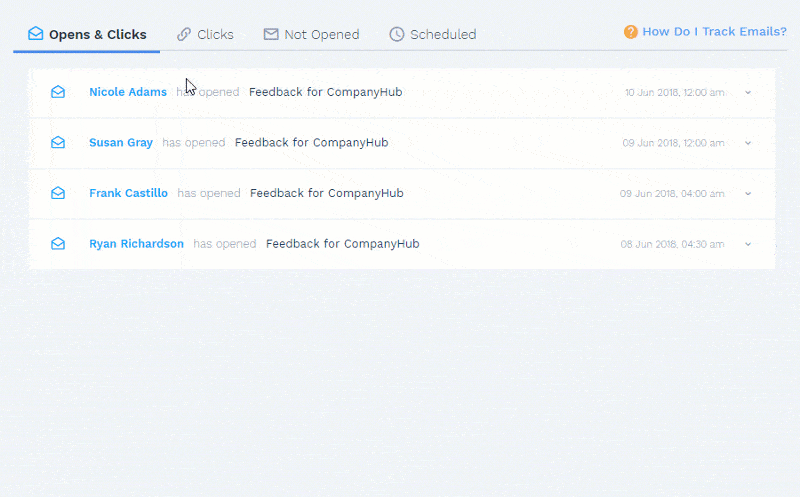 Track Email Opens & Link Clicks.
Even from Gmail.
CompanyHub shows you which emails were opened and when. You can experiment & find which subjects & mails get more opens & clicks.
Build An All-Round Comprehensive Patient Profile with CompanyHub Doctors CRM Software.
Integrate all the data related to the patient. The behavioural data, their medical history, the present diagnosis and the appointment history in a single portal.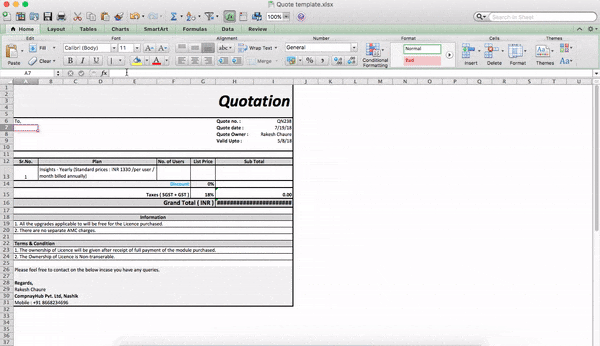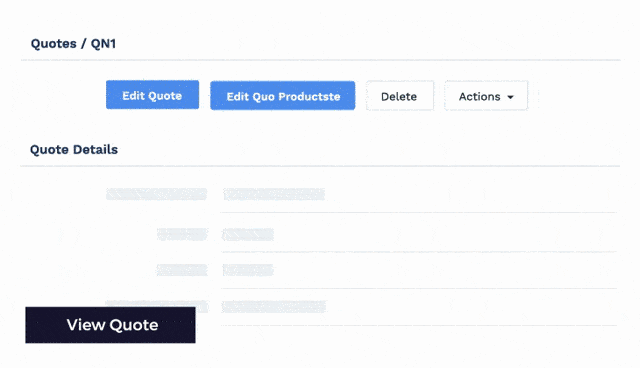 Segment The Patients Based On Several Parameters
Draft and segment all your patients in separate categories based on their illness, location, past diagnosis, partners,
etc. This helps you connect to them time and again, knowing about their condition and rendering personalized care.
This improves doctor-patient relationships while lowering the possibility of worsening health conditions.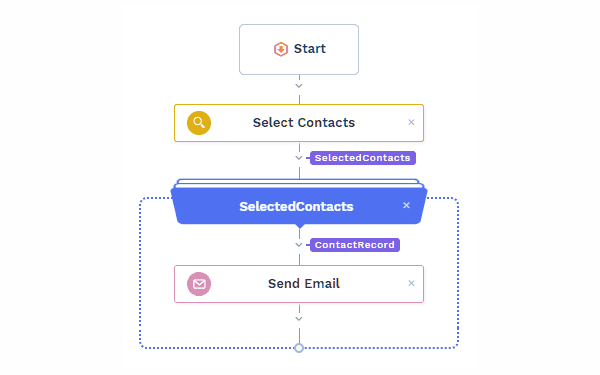 Boosts Engagement
One-click access to patient health records
Track the health of patients that require immense care
Automated notifications on upcoming appointments
Predict what a patient needs, based on the health conditions
Seamless engagement with the patient even after discharge
Improve & Enhance Patient Experience By Integrating Operational Efficiency
Keep track of daily schedules and inform patients instantly after the doctor updates his/her calendar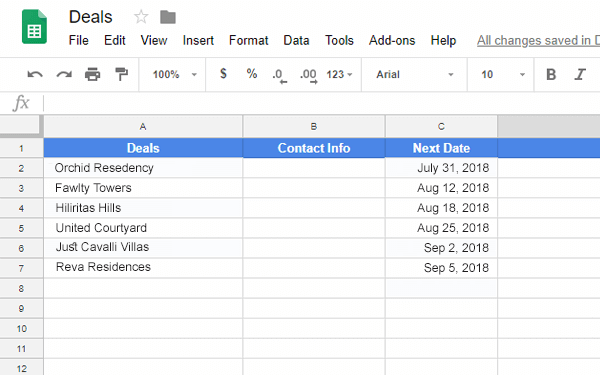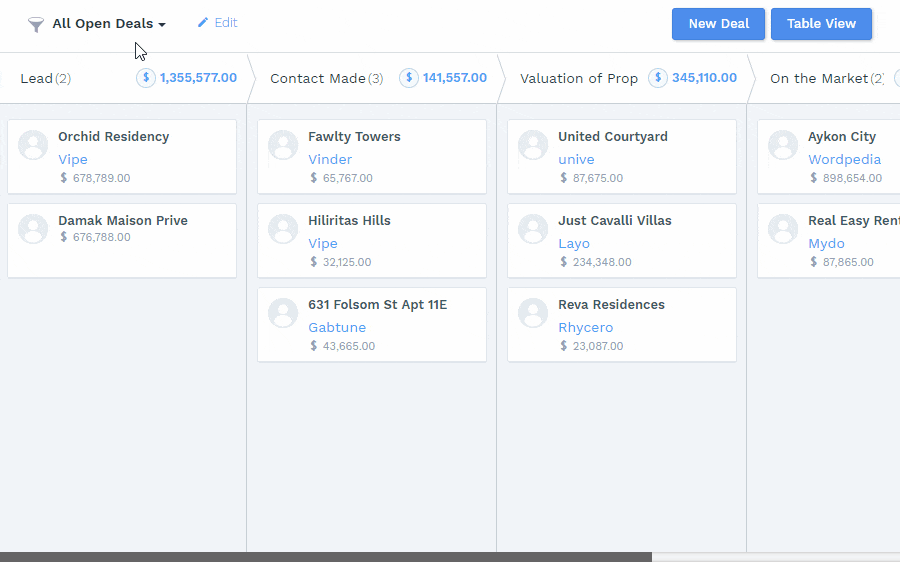 Efficient Doctor-Patient Mapping Based On The Disease And Requirements
See sales activities
How many emails they sent, calls they made, new leads etc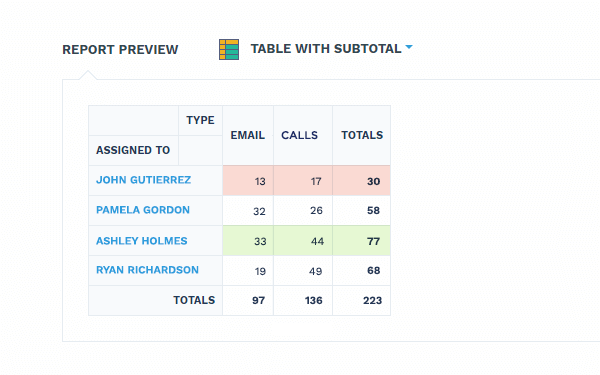 Compare Performance of Sales People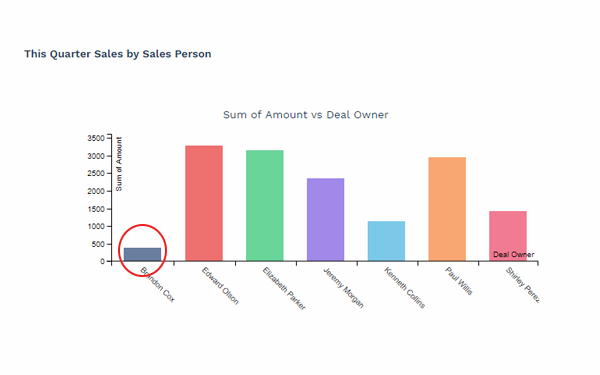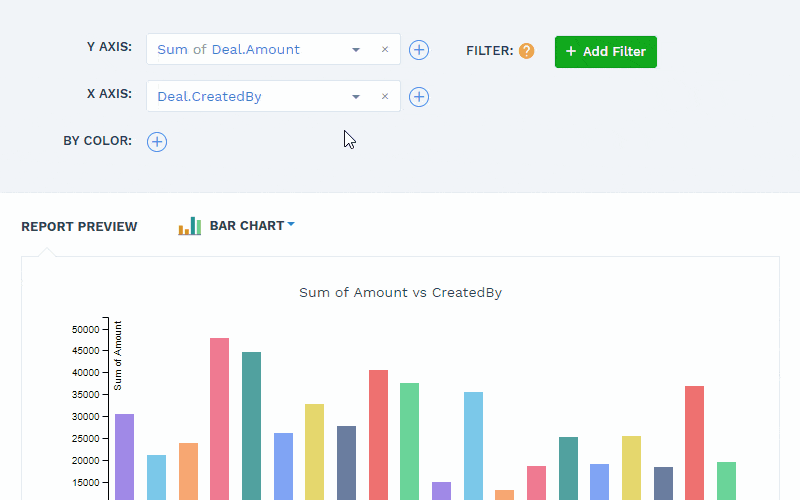 Analyze Anything in Realtime
Directly assign a doctor to the patient in case the patient has made a reference
For Any Time Frame
Assign the most efficient Doctor when the patient asks for a suggestion. This is automated and done as soon as the patient sends in the inquiry.
Awesome Visualizations
Area Chart
Bar Chart
Pie Chart
Line Chart
Donut Chart
Pivot Table
Fully Customizable
Add New Patient Details On The Go.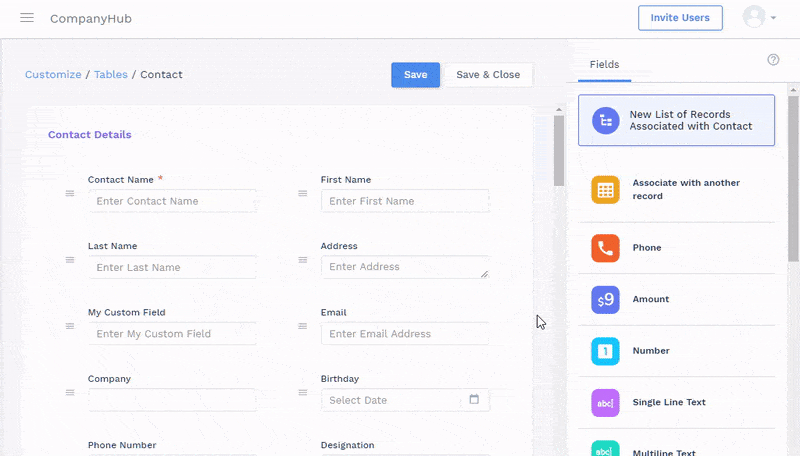 Cancel Follow-ups
Track all the information you need with custom fields & tables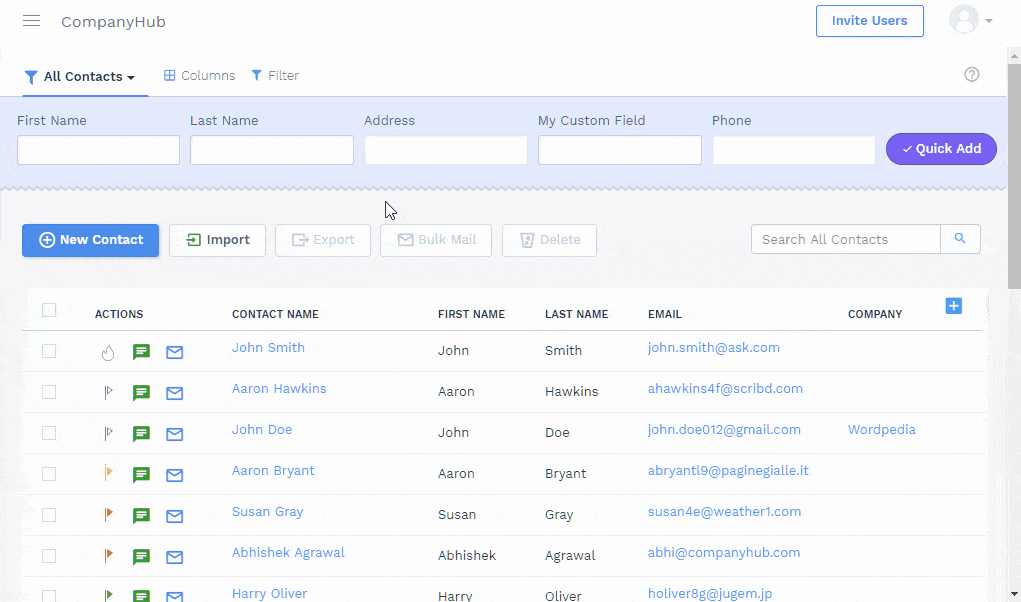 Track And Analyze Patient Health
See all the important information instantly by customizing columns.
Filter data in a click with saved filters.
If you just got one new client a year, how much would this be worth to you?
Get Everything You Need To Grow Your Sales
In a very easy yet powerful CRM
$49/user per month + $1000 Setup
$24/user per month
Digitize Patient Engagement
Centralize Database For Patient Information
Map Doctors
Store Medical History As Well As Diagnosis Reports
Track The Health Status Of The Patient
One-to-one Connection With Patients.
Automated Follow-up Calls
Schedule Or Book Appointments
Improved Management
Update Calendar Cased on Appointments
One-click Access, To Patients Record
Auto-Switch Dates Based On Availability
Automated Feedback Collection
Free Consultation
Improved Healthcare
Digital Devices Integrated with the App to Keep Track of the Patients' Health Parameters
Digital Records Eliminate Room For Error
Virtual Treatment Suggesting What Best Could be Done in Case of An Emergency.
Want to explore more? Doctors CRM Software is an optimal solution for all your doctor-patient
engagement problems. To know more connect with CompanyHub and avail free consulting.
Questions and Concerns
Why buy from you? What makes you so special?
We have been working in CRM space for 8+ years. This gave us the understanding of needs of different companies. We have also used (tried?) many CRMs for our own sales teams. This made us realize that most CRMs are either too basic or too complicated. Also, they lack essential sales tools like email tracking, reporting etc. Frustated, we decided to build it ourselves. As we are also a very design focussed company, we were able to build a really easy yet really powerful CRM that helps companies grow.
What results will I actually get from this?
CompanyHub will help you in 3 ways. 1. You will be able to easily nurture your leads and convert more leads. Thus growing your sales. 2. It will increase your team productivity. Your agents can save several hours and use that to focus on sales. 3. You will get complete visibility. You will be able to track all leads, their conversations, deals in a centralised place. Also you can analyze anything with powerful reporting. So you get everything to grow your business.
Are you guys going to steal my credit card and run away?
Of course not! In fact we recommend you start with our Free Trial first in which we don't even ask for your credit details. In this Free Trial period you'll see how awesome CompanyHub is. You can (And must!) invite your team during trial and have everyone use the app. Then you can take feedback from your team after the trial period. If you feel everything is genuine and you see the value, then you can go ahead with paid license.
Are there any long term contracts?
We are pretty confident that CompanyHub will justify it's value within few days. That's why we don't keep any long term contracts and you can opt in for month-to-month plans. You can howerver, pay yearly to get additional discounts.
What's included in the training call?
In the Training call, one of our CRM consultants will reach out to you and they'll understand your requirements. After understanding the requirements they'll guide you to get the best out of your CompanyHub CRM account. You will get a demo as per your requirement. You can also involve your team on the demo.
How do I present this to my team?
You can directly invite your team to your CompanyHub account so they can start using it. CompanyHub is pretty easy to use and we are pretty sure your team will start using from day 1. However in case of any queries, you / your team can get in touch with our support team and they can guide you further.
Are you GDPR compliant?
We know it's a wild web out there and we value our Customer's choice to rely on CompanyHub for all their customer information. To comply with this CompanyHub is fully GDPR compliant.
How secure is my data?
Data security is something that we take very seriously here at CompanyHub. In fact we provide you enterprise level 5 layer security : 1. Separate database for every client 2. Secure data transfer using SSL like banks 3. AWS servers, used by leading sites 4. Record level security 5. Field level security.
While sending bulk email whose email address will be used?
Unlike Marketing emails we use your own email address & server to send the bulk emails (one by one). So that chances of your email going into your prospect's primary inbox is much more higher.
How many emails can I send using CompanyHub?
Most email providers have a daily limit, which is mostly in 100s. Please check your provider's daily limit for sending mails. CompanyHub allows up to 1000 per day.
Where is my data hosted?
We use AWS servers, which is also used by most of the leading sites.
Will this integrate with other systems?
With different integrations options like Zapier, PieSync and API, CompanyHub can be integrated with all the popular application.
How hard is it to get started on CompanyHub?
Using CompanyHub is as easy as excel. All you need to do is create your account and get started. In case of any doubts or queries you can always reach out to your Customer support.
What is UTron and how does it work?
UTron is your personal sales bot which will help you automate all the boring tasks. With just point and click you can create your UTrons to automate almost all your business processes without a single line of code.
Will CompanyHub work on my mobile device?
We strongly believe it's a mobile-first world and we don't want to restrict our client's sale to their desk. Thats why CompanyHub very easy to us mobile apps for Android and and iOS, which are designed for "always on the go" sales people. So everything you need is just a tap away.
I have my offices setup in different locations, will this work for me?
Yes, CompanyHub will be a perfect solution for you if you have your offices setup in different locations. With CompanyHub you can decide which user can see what information. Also all your teams can easily collaborate at one place while you get complete visibility. You can also create insightful reports within few minutes.
Will there be someone if we need help in setting up the account?
Yes, our support team will be just a message away whenever you need them. Whenever you or your team has any doubts or queries just message/email our team and they'll be glad to help you. BTW CompanyHub support team was the only company who got 100% satisfaction rating in G2 Crowd's High performing CRM Spring list.
Our Support Team Loves Helping Our Customers
Our Customers Have Shown The Love Too By
Rating Them 100%

On G2Crowd!
Danish Deshmukh

Siddhata Khatri

Ajay Palkhede

Rakesh Chaure

Neha Mehta
Live Chat
Email Support
Help in Account Setup
Personalized Demo
Are You Ready To Get Started With CompanyHub?